"The Births": perhaps the most secret and preserved part of the mythical "sacred river of the Mayans", for being the place of creation and birth of the new sun, according to the Mayan "bible" of the Popol Wuj …
We offer you to sail on the "sacred river", where numerous "windows", or "siguanes", offer fantastic games of water and green light.
This exceptional aquatic tour allows you to discover gigantic rooms, adorned with crystals and carpeted with remains of Mayan ceramics.
An unforgettable adventure, in a world "out of time", to immerse yourself in the haunting atmosphere of the "World of Xibalba".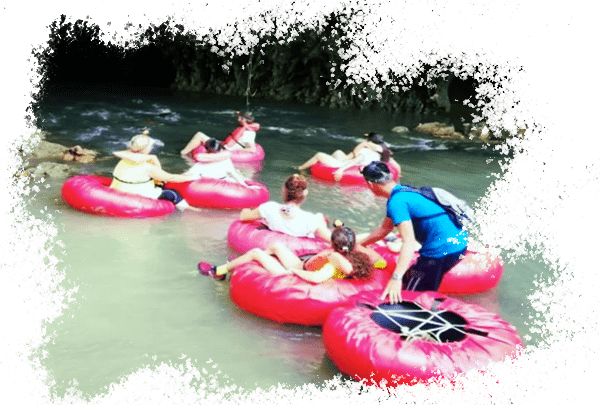 The most complete option to discover
DESCRIPTION OF THE SERVICES OFFERED.
Walk in the tropical gardens and walk in the jungle to reach the river.
Descent from the most mystical part of the "Rio Sagrado de los Mayas": "LOS NACIMIENTOS" a route of approximately 4 km between jungle and caves.
Transport of the equipment (tubes with special protection, lighting equipment, life-saving vests, helmet if necessary …) by our staff.
Travel back to the Lodge insured by a vehicle.
Specialized guide for the entire tour.
Wear underwear and a shirt.
Wear tied shoes, water shoes or tennis.
Provide clothes to change after the excursion.