This excursion begins with a walk in the tropical gardens of the Lodge and then in the humid tropical jungle.
The tours allow you to admire a great variety of exotic plants and to observe a diversity of birds such as woodpeckers, parakeets, quetzalites and toucans.
Arriving at the river, visitors board an inflatable boat and descend an underground part of the mythical "Rio Sagrado de los Mayas" to access and visit the "Sala de Xibalba", one of the most spectacular of the "Cuevas de Candelaria".
This tour in the heart of the "Underworld", where, according to the Mayan bible of the "Popol Wuj", the creation of the cosmos began, allows you to observe quantities of remains of Mayan pottery used in this ancient ceremonial center of the Mayans.
The return journey allows you to visit an impressive "fossil" cave, part of the Candelaria Caves system and to discover the exceptional characteristics of the "tropical karst", in the still preserved primary jungle.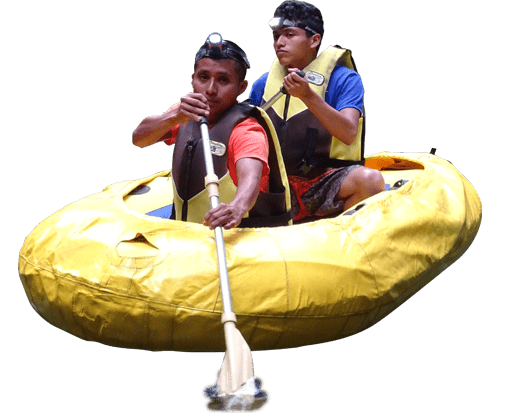 It is a unique experience in the Mayan world!
DESCRIPTION OF THE SERVICES OFFERED.
Walk in the tropical gardens and walk in the jungle to reach the river.
Descent from a part of the "sacred river of the Mayans" to reach the "Xibalbä" room.
Equipment transportation (boats with special protection equipment, lighting equipment, life-saving vest, …)
Visit of the "Xibalbá" hall, the ancient ceremonial center of the Mayans.
Specialized guide for the entire expedition, from the departure of the lodge until the return.
Visit of an impressive "fossil" cave of the "Cuevas de Candelaria" system and discovery of the tropical "karst".
Wear underwear and a shirt.
Wear tied shoes, water shoes or tennis.
Provide clothes to change after the excursion.